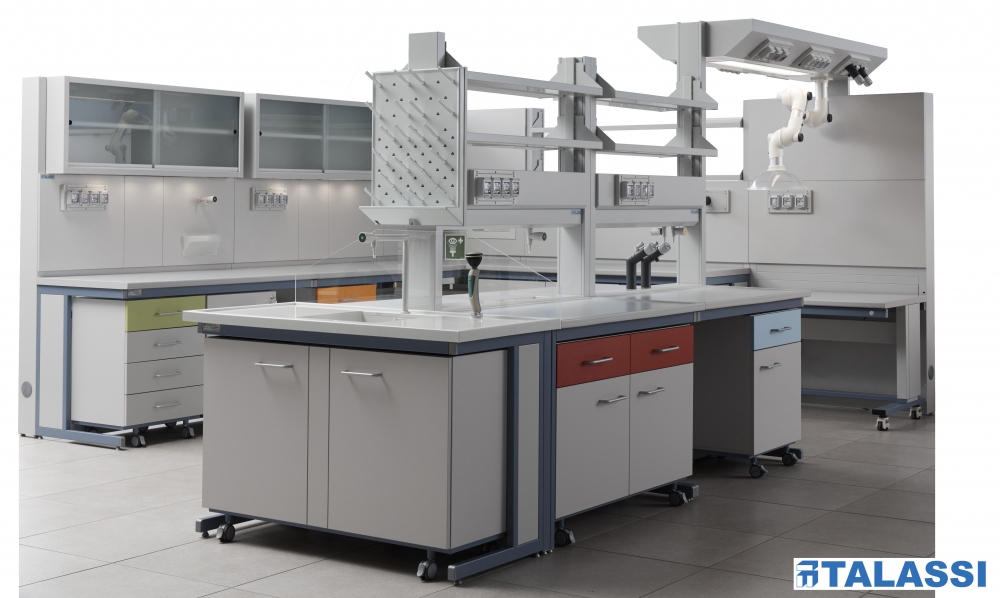 Designed to allow the designer to freely manage spaces and different laboratory requirements, it is flexible and ergonomic enough to match modern design with a high care for details.

The self-standing structures are in steel C-shaped tubular, corrosion-proof through phospho-degreasing process and epoxy resin panting in thermal tunnel at 200°C.

The structural units are available 60-90-120-150-180 cm long, to be easily matched, certified UNI EN 13150, EN 61010-1

The service holding technical self-standing unit MODULAB thanks to the unique fitting allows easily matching the different technological panels. The technical units can be fitted to the walls or between tops, at unit heights according to the specific requirements and they are set to independently fit, independently from tops and counters, any installation and utility required to the operator. The system allows to define different working areas within modern open-space ambiences.

The furnishing system is perfectly suitable to any scientific, didactic, chemical, pharmaceutical or analysis laboratory. It can be customized with adjustable shelves, suspended units, lights, monitors and technical services, including different types of tops according to the specific user requirements.

Besides units 83 cm depth, units 68 cm deep are available, suitable to furnish small rooms such as galenical or preparation laboratories for chemists'.

Modulab 95 includes a series of under-counter units in fireproof CLASS 1 laminate or in painted metal CLASS 0, on castors and removable, certified EN 16121.