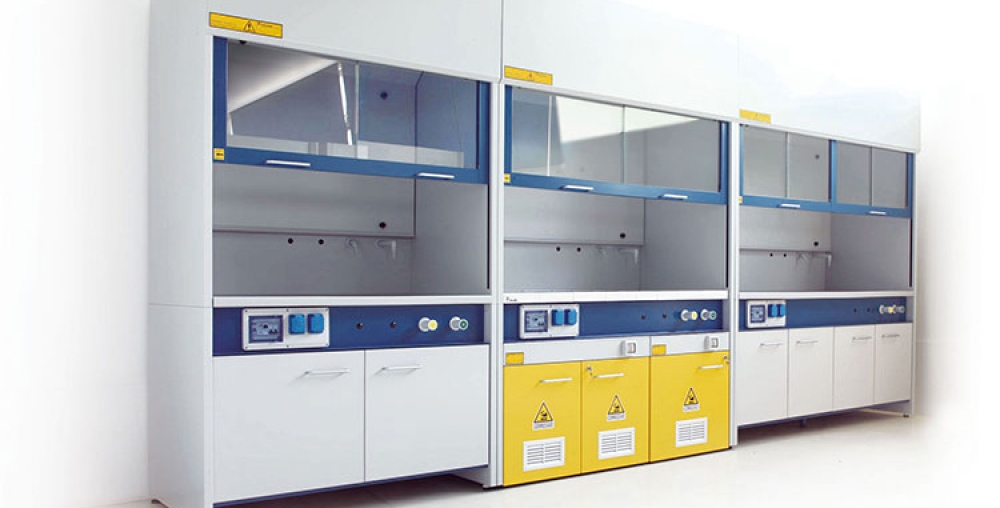 It was studied to provide for the highest possible operator protection during the potentially dangerous material processing. The hood is fitted with a double back wall for aspiration. The hood unit was studied to avoid vortexes. An upper air inlet and an air inlet on the top provide for a rapid gas removal. The hood is fitted with a safety burst-proof system. Fitted with a safety block to be used in case cables breaks and door limit switch at 50 cm. The aspiration group consisting of a tight motor IP55CE with a scroll and impellers in polypropylene is sized according to the regulations in force according to the hood sizes, to the outlet and the different types of processing and used products.

Standard fittings:
N° 1 front glass shutter door, with sliding glass doors
N° 1 top with border
N° 1 control electric panel IP667 top with border.
N° 2 electric 220 V-16° sockets
N° 1 cold water cork
N° 1 gas cork
N° 1 outlet bowl
N° 1 internal lighting
N° 1 under-counter unit closed with hinged door, removable
N° 1 upper expulsion flange

Internal water, gas, electric and discharge installations, entirely cabled and set for the connection.

Optional accessories: electronic speed adjuster, active coal filters, various utilities, stainless steel frames, aspiration system built-in the unit, possibility to add controlled cabinets for acids/bases or cabinets for inflammable products.

The MA95 hood complies with the technical standards for laboratory furnishing units, CE EN61010-1 mark.